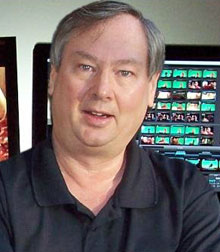 David Catt started life in the film and television industry as a telecine engineer at Rank Cintel in the UK. He also ran the training department for a while before joining SVC Television, a London post production facility based in Soho as their chief (only) engineer. After that, he took over as full time colorist. He built a second telecine suite and then a third which used the very first Da Vinci color corrector in Europe. Later, he built the first Tape to Tape room in Europe also using a Da Vinci.
David became very close to many of the personnel at Da Vinci and in 1994, they offered him the position of Product Manager. He began working with the Da Vinci engineers to develop products from the colorists perspective, including the Da Vinci 2K and Resolve.
In 2007, David moved over to Film Systems to become their Product Manager with the intention of building a new film scanner. However, the writing was on the wall even then that film was on the decline. Blackmagic bought Da Vinci and needed an Eastern USA reseller for the revitalized Resolve product line. Film Systems was selected became quite successful in building, selling and training on Linux and Mac Resolve color correctors, Revival Restoration products and UltraScope.
The color correction industry has changed significantly away from film and into the digital era. With help from good friend Ron Anderson, David started his own color correction company, ColorScene Inc, to get back to his colorist roots. He uses a Resolve color correction system installed in a purpose-built grading suite. His years of experience in product management and concept design for color correction products helped him re-invent high efficient color correction processes and workflows to match current requirements in an all digital world.