Guest blog by Dick Hobbs
Not so long ago, post production was where all the fun was in our industry. That was where the glamour was created, and that was where the real creative heroes did their magic.
It was also where the excitement lay. I am old enough to remember NAB 1992, when people were literally running around finding their friends and dragging them to see a new company called Discreet Logic and its incredibly powerful new finishing system called Flame. Forgive the pun, but it really set the place alight.
I have just looked through the five editions of this year's IBC Daily. In the live news sections (the outside four sheets), there was precisely one story directly linked to post production: Al Jazeera buying Avid's cloud solution.
There was plenty of news that affects the post industry. One obvious example is that HDR really seems to have taken off. From a science project just a few years ago – and with a deal of distrust that the result would just be really, really bright pictures – it has become something that can be delivered practically and consumers appreciate.
I wonder if the problem with post technology is that it has become commoditised. The packages that cost small change to buy or rent that typical wannabees (and I) use are essentially the same software systems found in top-end post houses.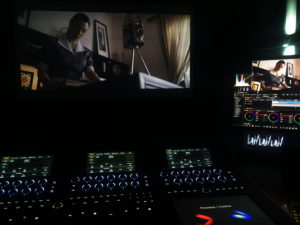 The only difference between me grading something in Resolve and going to a post-house is that a professional colorist will do it about a million times better and several orders of magnitude quicker. And the surrounding infrastructure will be rather more robust.
Chatting with Kevin Shaw, we came up with the analogy of doing odd jobs around the home. If it is a matter of putting up a few shelves or picture hooks, then of course I would do it. If it was a bigger job, then I would consider how busy I was and whether it would be better to get on with the revenue earning and bring in a craftsman.
And if it was a job that I know I would make a mess of, however long I spent on it – like plumbing – then I would call a professional in immediately.
I know how to tell a story, so if it is a basic edit then I am happy to get on with it. If there were a lot of graphics then I might have a go, picking up on the templates you usually find with standard software, but if it needed an artistic touch then I would consider asking an expert.
And if it was a job that I know I would make a mess of, however long I spent on it – like colour grading – then I would call a professional in immediately.
Which raises the question of specialisation. Increasingly, a post production system has a bit of everything thrown in. Editors have access to colour controls, with the result that for some shows the pictures are graded but in the edit suite. For a bit of simple matching, or maybe the odd graduated filter to create an atmosphere, that is perhaps not a bad thing.
But the colour suite is generally regarded as the place where serious creative work takes place, not least because it is often the suite with the largest screen and possibly the only one that has been calibrated. This is not colour correction, putting things right. It is where colours and textures are used to add to the story, to structure and finesse the look of a project.
Powerful grading tools are great at this. But the addition of tools like nodes, shapes and tracking which allow very fine control over parts of the picture, also means that it can be used to bring multiple layers together.
Yes, of course you are going to get a better result if the colorist can grade CGI and real elements together. A set extension is only going to work if it matches the original background plate perfectly.
But should colorists be acting as compositors? Does this help the creativity or is it an imposition? What about other tools? The latest version of Resolve from Blackmagic Design includes a Fairlight page, so the colorist could sweeten the audio too.
Where should the line be drawn, between the colorist as grading supremo or overall finisher? Do you want to be colour heroes, as colorists once were, or a jack of all trades but with full final control over the output? At the ICA we see both types of colorists at our classes, as well as cinematographers, editors and compositors. Hero colorists are found in the bigger post-houses and generalists are usually found in production companies that handle their own post. There is room for both, but I would love to see the glamour come back.