This year was the 50th anniversary of the International Broadcast Convention and it was as lively and inspiring as ever! Over 57,000 visitors descended on Amsterdam, and enjoyed the networking, discovery and education of the show, day and night. Even the drizzle and wind could not dampen our spirits.
For me the stand out trends this year were HDR, Augmented Reality, Artificial Intelligence and data, lots and lots of data. The two technologies that were less prominent than expected were VR and drones.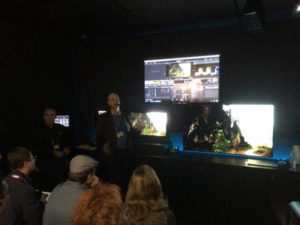 I did a guest presentation, once a day at the Dolby booth, where they were explaining both Dolby Vision and Atmos. Just before the show Apple announced that Apple TV, and iPhones 8 – X support Dolby Vision. So, it was not too surprising that the booth was packed at every sitting. Dolby have developed a set of HDR mastering tools and certify an on-set to TV set workflow. Once again, the IBC Big Screen was fitted with a Christy Dolby Vision projector and Atmos sound. Baby Driver (2017) was shown on Saturday night and War for the Planet of the Apes (2017) on Monday. Dolby Cinema is proving a great incentive for studios to master HDR.
Most interesting for HDR colorists was the introduction of so many fantastic reference displays. Until now, the only recommended HDR reference monitor was the Sony x300, which is a nice monitor, but suffers from dimming if you try to push it too hard. I visited CSI sponsor FSI to see how work has progressed on the 2000 nit monitor they announced at NAB. It still needs a little more work before shipping, but it looked stunning and was already showing around 900 nits with no dimming. This will make a beautiful HDR reference monitor when it ships. The other HDR monitors that really impressed me were from Eizo, who is ready to shake off its photographic reputation and have engaged the colorist market in a big way. In a dark private room, they bravely put a Sony x300 against their flagship screen. Like the Sony, it is a UHD 10bit monitor with up to 1000 nits of brightness. Unlike the Sony, it never dims. In the test material, this was very evident on a fade to white. Probably not a full 1000 nits, but still the Eizo stayed crisply white which contrasted noticeably against the fading Sony. Canon was also showing their latest HDR monitors, but for me these are like the Atomos, more an on-set device than a colorist reference. I could not fault the images, but the canon allows the user to adjust not only the screen brightness, but also the tone mapping of the input signal. The problem with this approach is that you can look at a 2000 nit signal with for example a peak brightness of 600 nits. The result is that you see the detail but lack the punch. It is a good analysis tool, and of course it can be set up as a proper grading monitor but I felt it lacked the clarity of the FSI, Eizo and even the Sony.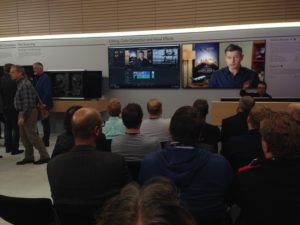 All the color grading software companies announced new release versions, with impressive new features. BMD Resolve 14 now has a new page –Fairlight audio mixing is now included for free. It also has a wealth of new grading and editing features, pages more than I can write about here! FilmLight released Baselight 5, which is even more colorspace aware than before and includes their new Base Grade primary tools. My attention was caught by the warp tool that did a wonderful cosmetic job and tracked perfectly. Digital Vision released Nucoda 2017, again with too many new features to list, but with strong support for HDR and UHD pipelines. Rio from SAM has always done everything in the one package, and it continues to grow stronger in all areas of post-production, especially in delivery. All these companies have given colorists some really good new features, but am I the only one that worries about how stretched we are if we do everything these programs offer? The argument is that extra features like Fairlight audio are to improve collaborative workflows and that makes sense. However, it won't stop clients asking for that last minute tweak. FilmLight and SAM received IBC awards for best free design of a booth (smaller and larger respectively) Just because you can does not mean you should! SGO have once again pioneered new ground and their VR grading, compositing and effects package is very impressive for anyone in that market.
VR was present elsewhere, but much less than we would expect of a successful new trend. I think the problem is that it is still in its infancy and lacks an obvious market outside of games. Augmented reality has taken over in terms of interest and applications and the future zone had some interesting examples.
Artificial Intelligence (AI) is the new buzz word. AI covers a very wide range of technologies, from voice activated devices like Amazon Alexa, to machine learning. Automation is everywhere, partly due to the increased adoption of the Interoperable Master Format (IMF). Originally developed for the features studios so that they could keep one master with trackable changes instead of many, many masters, it is becoming the ultimate wrapper. Or should I say wrappers, because whilst the structure is broadly the same, each user seems to have their own flavor. Netflix bought in to IMF in 2014, then US broadcasters and now the DPP are likely to recommend it as the standard for UHD file delivery to European broadcasters. At IBC everyone wanted to somehow be associated with IMF, so that is the one to watch.
Kevin Shaw September 2017