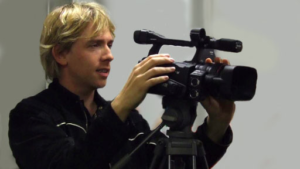 Simon Walker is a freelance colorist based in the UK, and has been shooting, editing, designing and producing short-films, adverts, interactive programs and motion graphics sequences for over 18 years. He is also an Adobe Certified Instructor in Premiere Pro, an Apple Certified trainer for FCPX, and an Apple Certified Final Cut Studio Master Trainer.
See a schedule of Simon's upcoming classes
Simon works closely with Red Giant Software to create tutorials for their popular postproduction plug-ins, and he also configured and designed all the presets for their flagship grading program Magic Bullet Looks. In addition, he has published several Guru Packs of grading presets for Magic Bullet Looks including the "Master Artists for Looks 2" and "Weddings and Events".  The Master Artists presets draw on Simon's love of art history and the wealth of techniques employed by master artists throughout the centuries to explore and present colour, light, form and space. He extrapolated these ideas and transposed them into image enhancing for film and video.
His bank of training tutorials and quick-tips (including techniques for Final Cut Pro, Color, FCPX, After Effects and Adobe Premiere Pro) have been watched by thousands of viewers worldwide and he has developed a color correction and grading seminar based on his experience of the tools, the versatility of plug-ins and love of colour design in films. Simon trains broadcast and industry professionals and film-makers in the artistry and techniques of colour grading in multiple host software programs, and encourages students to experiment with color correction and grading to create visually dynamic treatments.
His seminar Visual Storytelling through Color Grading builds on looking at color design and theory in seminal films and demonstrates techniques to achieve filmic looks through a combination of observation and technical understanding of the software and it's capabilities. During the seminar, he shows how you get the best out of your software, improve your grading techniques and speed up your workflow using Final Cut Pro 7, Color, Final Cut Pro X, Premiere Pro and After Effects.
He teaches video compression and quality optimisation at Master Degree level at Ravensbourne University (MA/MSc Professional Media Practice), and regularly runs the official Adobe Certified editing training course: An Editor's Guide To Premiere Pro. He has trained broadcast production staff at the BBC, BBC Post, ITV, Turner, Bloomberg TV, Hogarth Worldwide, Met Film School, University of Salford, and The National Film School, as well as at numerous media agencies and TV production companies.
Simon is a regular contributor to MacWorld magazine, where he writes editing and grading MasterClasses, as well as reviews of professional production software. He is often a guest on the Larry Jordan hosted Creative Planet Digital Production Buzz, the Technorati Blog with Cirina Catania, and frequently presents at industry events and at professional user groups.
Website:  www.SimonWalkerFreelance.com