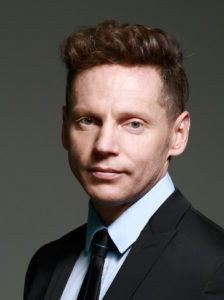 Dado Valentic is an award winning master colourist with over 16 years of industry experience. He is a founder of MYTHERAPY, High End motion picture post production studio and a research lab for Digital Colour Grading based at the Warner Bros. De Lane Lea, London, UK. Working on some of the biggest feature films and commercials across the world, he is one of the most sought after colourists around.
See a schedule of Dado's upcoming classes
Colour Training – training program with Dado Valentic, ICA instructor & Mastercolourist
The aim of his colour training work is to bring innovation and offer a deeper understanding of colour and perception that reaches far beyond perimeters of his research lab.
ICA Dado Valentic types of training: One to one – tailor-made – group training.
ICA training centres: London, Berlin, NYC and  LA
Reducation: London, New York, Los Angeles, Las Vegas, Singapore, Moscow, and Gothenburg.
Guest lectures at International Broadcasting Convention in Amsterdam, National Broadcasting Convention in Las Vegas, British Society of Cinematographers Expo, BAFTA and Creative Week in London. He is a regular lecturer at the Dutch Film Academy, London International Film School, Moscow International Film School, SAE Oxford and Edinburgh University of Arts and German film academy, Berlin- Up. Grade.
Custom Training Programmes for production and post production companies.
Clients: Burberry, Stink, Gramar Park Studios, The One Off, etc.
Dado Valentic has brought his method of teaching to TV GLOBO in Brazil and South Korean National Television Foundation.
See a list of upcoming courses taught by Dado Valentic
Web site: